Miroslav Savić, PhD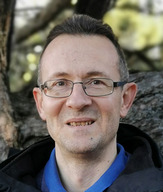 Position: Full Professor
Organizational unit: Department of Pharmacology
Address: Vojvode Stepe 450, 11221 Belgrade, Serbia
Room: B 001
Telefon: +381 11 3951-280
Fax: +381 11 3972-840
Email: miroslav@pharmacy.bg.ac.rs
Miroslav M. Savić, born in 1973 in Kraljevo, graduated from the Faculty of Pharmacy, University of Belgrade in 1997. He defended his master's thesis at the Faculty of Medicine, University of Belgrade in 2002, and his doctoral dissertation in 2004, in the field of Pharmacology.
He has been employed at the Faculty of Pharmacy, University of Belgrade since 1998, and since 2015 he has been a full professor at the Department of Pharmacology. He is the mentor of eight defended doctoral dissertations. He is the manager of national projects financed by the Ministry of Education, Science and Technological Development of Serbia, in the period 2006-2010. and 2011-2019. year, as well as the project Ideas of the Science Fund of the Republic of Serbia in the period 2022-2024. (Neuroimmune aspects of mood, anxiety and cognitive effects of leads / drug candidates acting at GABAA and / or sigma 2 receptors: In vitro / in vivo delineation by nano- and hiPSC-based platforms). He was the coordinator of two bilateral research projects between Austria and Serbia (2016-2017 and 2018-2020). He is the head of the work package within the H2020 project "Preclinical prediction of unwanted drugs on the nervous system" in the line of the Initiative for Innovative Medicines, for the period 2019-2022.
He is the co-author of 61 papers from the SCI list. According to the Scopus database, the total number of citations without heterocites is 1186, and the h index is 22. The inventor is two published international patents. He is a member of the Commission for Medicines of the Agency for Medicines and Medical Devices, the Ethics Committee of the Republic of Serbia, and the Parent Committee for Medical Sciences of the Republic of Serbia.
The main expertise of the research group led by Miroslav Savić is focused on techniques of experimental analysis of the behavior of experimental animals (mice, rats). In addition to behavioral pharmacology, the research group conducts pharmacokinetic research, methods of neurochemistry and various molecular biological techniques, which include work on neural cells. Research is focused on modeling neuropsychiatric disorders such as anxiety disorders, autism, depression, schizophrenia, Alzheimer's disease, as well as the discovery and development of drugs in the field of neuropsychopharmacology. This research is conducted in continuous cooperation with foreign laboratories (USA, Austria, Canada)..
Aranđelović J, Santrač A, Batinić B, Todorović L, Ahmed Khan MZ, Rashid F, Poe MM, Obradović A, Cook JM, Savić MM. Positive and Negative Selective Allosteric Modulators of α5 GABAA Receptors: Effects on Emotionality, Motivation, and Motor Function in the 5xFAD Model of Alzheimer's Disease. J Alzheimers Dis. 2021;84(3):1291-1302. doi: 10.3233/JAD-215079.

Santrač A, Batinić B, Stamenić TT, Aranđelović J, Sharmin D, Knutson DE, Cook JM, Savić MM. Positive modulation of α5GABAA receptors leads to dichotomous effects in rats on memory pattern and GABRA5 expression in prefrontal cortex and hippocampus. Behav Brain Res. 2022 Jan 7;416:113578. doi: 10.1016/j.bbr.2021.113578.

Andronis C, Silva JP, Lekka E, Virvilis V, Carmo H, Bampali K, Ernst M, Hu Y, Loryan I, Richard J, Carvalho F, Savić MM. Molecular basis of mood and cognitive adverse events elucidated via a combination of pharmacovigilance data mining and functional enrichment analysis. Arch Toxicol. 2020 Aug;94(8):2829-2845. doi: 10.1007/s00204-020-02788-1

Vasović D, Divović B, Treven M, Knutson DE, Steudle F, Scholze P, Obradović A, Fabjan J, Brković B, Sieghart W, Ernst M, Cook JM, Savić MM. Trigeminal neuropathic pain development and maintenance in rats are suppressed by a positive modulator of α6 GABAA receptors. Eur J Pain. 2019 May;23(5):973-984. doi: 10.1002/ejp.1365.

Sieghart W, Savić MM. International Union of Basic and Clinical Pharmacology. CVI: GABAA Receptor Subtype- and Function-selective Ligands: Key Issues in Translation to Humans. Pharmacol Rev. 2018 Oct;70(4):836-878. doi: 10.1124/pr.117.014449.

Knutson DE, Kodali R, Divović B, Treven M, Stephen MR, Zahn NM, Dobričić V, Huber AT, Meirelles MA, Verma RS, Wimmer L, Witzigmann C, Arnold LA, Chiou LC, Ernst M, Mihovilovic MD, Savić MM, Sieghart W, Cook JM. Design and Synthesis of Novel Deuterated Ligands Functionally Selective for the γ-Aminobutyric Acid Type A Receptor (GABAAR) α6 Subtype with Improved Metabolic Stability and Enhanced Bioavailability. J Med Chem. 2018 Mar 22;61(6):2422-2446. doi: 10.1021/acs.jmedchem.7b01664.

Joksimović S, Divljaković J, Van Linn ML, Varagic Z, Brajković G, Milinković MM, Yin W, Timić T, Sieghart W, Cook JM, Savić MM. Benzodiazepine-induced spatial learning deficits in rats are regulated by the degree of modulation of α1 GABA(A) receptors. Eur Neuropsychopharmacol. 2013 May;23(5):390-9. doi: 10.1016/j.euroneuro.2012.05.003.

Savić MM, Majumder S, Huang S, Edwankar RV, Furtmüller R, Joksimović S, Clayton T Sr, Ramerstorfer J, Milinković MM, Roth BL, Sieghart W, Cook JM. Novel positive allosteric modulators of GABAA receptors: do subtle differences in activity at alpha1 plus alpha5 versus alpha2 plus alpha3 subunits account for dissimilarities in behavioral effects in rats? Prog Neuropsychopharmacol Biol Psychiatry. 2010 Mar 17;34(2):376-86. doi: 10.1016/j.pnpbp.2010.01.004.

Savić MM, Milinković MM, Rallapalli S, Clayton T Sr, Joksimović S, Van Linn M, Cook JM. The differential role of alpha1- and alpha5-containing GABA(A) receptors in mediating diazepam effects on spontaneous locomotor activity and water-maze learning and memory in rats. Int J Neuropsychopharmacol. 2009 Oct;12(9):1179-93. doi: 10.1017/S1461145709000108.

Savić MM, Huang S, Furtmüller R, Clayton T, Huck S, Obradović DI, Ugresić ND, Sieghart W, Bokonjić DR, Cook JM. Are GABAA receptors containing alpha5 subunits contributing to the sedative properties of benzodiazepine site agonists? Neuropsychopharmacology. 2008 Jan;33(2):332-9. doi: 10.1038/sj.npp.1301403.