Mara Aleksić, PhD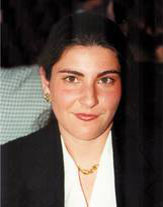 Position: Professor
Organizational unit: Department of Physical Chemistry and Instrumental Methods
Room: 004 (Building B)
Phone: +381 11 3951 294
E-mail: mara@pharmacy.bg.ac.rs


Mara Aleksić was born in Belgrade, where she finished elementary and secondary education. She graduated, got Master degree and PhD at University of Belgrade‒Faculty of Physical Chemistry. As postdoctoral researcher, she stayed on two occasions in Institute of Biophysics, Czech Academy of Science, Brno, Czech Republic (2008. and 2010.).
Dr. Aleksić is full professor at Department of Physical Chemistry and Instrumental Methods since 2015, where she teaches several courses: Physical Chemistry, Colloid Chemistry, Instrumental Methods (undergraduate level); Instrumental Methods (specialist studies required by healthcare system); Spectroscopic Methods in Drug Analysis, Physico-Chemical Phenomena and Instrumental Methods (doctoral studies).
She was a member of the Committee for the defense of one doctoral dissertation, mentor of 26 final/graduate theses and 16 student research papers.
She precipitated in six national scientific research projects, and member is of scientific research project - The Program IDEAS (since 2021).
Scientific research - Electrochemical characterization of pharmacologically active compounds: redox mechanism, adsorption characteristics, determination in biological samples. Development and application of electrochemical biosensors for detection of DNA- potentially cytotoxic compounds/drugs interaction, determination of type, composition, binding constants and thermodynamic parameters of complexes formed.
She has published 44 scientific papers in peer-reviewed journals and had 63 presentations at scientific meetings. Her papers were cited 375 times (h-index 14). Dr Aleksić is a reviewer for the numerous international journals: Talanta, Journal of Serbian Chemical Society, Sensor letters, International Journal of Electrochemistry, Current Pharmaceutical Analysis, Electroanalysis, Food Analytical Methods, International Journal of Environmental Analytical Chemistry, Journal of Molecular Liquids, etc.
She is co-author of five university textbooks: Selected topics of Colloid Chemistry (first and supplemented edition), Practicum in Instrumental Methods, Practicum in Physical Chemistry and Collection of Exercises in Physical Chemistry.
Member is of the University of Belgrade Professional Scientific Areas Board for natural sciences; Member of the Faculty Council, President of the Student Disciplinary Committee; Member of the Serbian Chemical Society and Society of Physical Chemists of Serbia.
M. Aleksić, V. Kapetanović, "An overview of the optical and electrochemical methods for detection of DNA - drug interaction" Acta Chimica Slovenica, 2014, 61, 555–573. (Review article).
M. Aleksić, V. Radulović, D. Agbaba, V. Kapetanović, "An extensive study of electrochemical behavior of brimonidine and its determination at glassy arbon electrode" Electrochimica acta, 2013, 106, 75–81.
V. Radulović, M. Aleksić, D. Agbaba, V. Kapetanović, "An Electroanalytical Approach to Brimonidine at Boron Doped Diamond Electrode Based on Its Extensive Voltammetric Study" Electroanalysis, 2013, 25(1), 230–236.
V. Radulović, M. Aleksić, V. Kapetanović, "An electrochemical study of the adsorptive behaviour of Varenicline and its interaction with DNA", Journal of the Serbian Chemical Society, 2012, 77(10), 1409–1422.
M. Živanović, M. Aleksić, V. Ostatná, T. Doneux, E. Paleček, "Polylysine-Catalyzed Hydrogen Evolution at Mercury Electrodes" Electroanalysis, 2010, 22(17-18), 2064–2070.
M. Aleksić. V. Kapetanović, "Application of Adsorptive Stripping Voltammetry for the Determination of Selected Methoxyimino Cephalosporins in Urine Samples" Combinarial Chemistry & High Throughput Screening, 2010, 13(8), 758–763. (Review article)
M. Aleksić, V. Kapetanović, J. Atanacković, B. Jocić, M. Zečević "Simultaneous determination of cefotaxime and desacetylcefotaxime in real urine sample using voltammetric and high-performance liquid chromatographic methods" Talanta 2008, 77, 131–137.
M. Aleksić, V. Savić, G. Popović, N. Burić, V. Kapetanović, "Acidity constants of cefetamet, cefotaxime, ceftriaxone; the effect of the substituent at C3 position" Journal of Pharmaceutical and Biomedical Analysis 2005, 39, 752–756.
V. Kapetanović, M. Aleksić, P. Zuman, "Two step reduction of the O-methyloxime grouping in the antibiotic cefetamet", Journal of Electroanalytical Chemistry 2001, 507(1–2), 263–269.
P. Zuman, V. Kapetanović, M. Aleksić, "Recent developments in electroanalytical chemistry of cephalosporins and cefamycins", Anallytical Letters, 2000, 33(14), 2821–2857. (Review article)