Jelena Antić-Stanković, PhD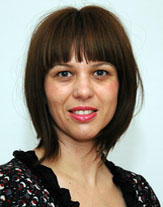 Position: redovni profesor
Organizational unit: Katedra za mikrobiologiju i imunologiju
Adress: Vojvode Stepe 450, 11221 Belgrade, Serbia
Room: A 005
Phone: +381 11 3951-226
Fax: +381 11 3972-840
Email: jelena@pharmacy.bg.ac.rs

Jelena Antić Stanković, Ph.D., is a full professor at the Department of Microbiology and Immunology at the Faculty of Pharmacy, University of Belgrade. Her research interests include investigating cytotoxic and antimicrobial effects both of the newly synthesized compounds and of the natural ones. She has co-authored over 100 publications (Scopus Author ID 12768090300, h-index 9, 577 citations). She is currently a participant in the COST Projects CA 20113 and CA 18226.


Đoković JB, Savić SM, Mitrović JR, Nikolic I, Marković BD, Randjelović DV, Antic-Stankovic J, Božić D, Cekić ND, Stevanović V, Batinić B, Aranđelović J, Savić MM, Savić SD. Curcumin Loaded PEGylated Nanoemulsions Designed for Maintained Antioxidant Effects and Improved Bioavailability: A Pilot Study on Rats. Int J Mol Sci. 2021 Jul 27;22(15):7991. doi: 10.3390/ijms22157991. PMID: 34360758; PMCID: PMC8347926.
Gledovic A, Janosevic Lezaic A, Nikolic I, et al. Polyglycerol Ester-Based Low Energy Nanoemulsions with Red Raspberry Seed Oil and Fruit Extracts: Formulation Development toward Effective In Vitro/In Vivo Bioperformance. Nanomaterials (Basel). 2021;11(1):217. Published 2021 Jan 15. doi:10.3390/nano11010217
Nikolic I, Mitsou E, Damjanovic A, Papadimitriou V, Antic-Stankovic J, Stanojevic B, Xenakis A, Savic S: Curcumin-loaded low-energy nanoemulsions: Linking EPR spectroscopy-analysed microstructure and antioxidant potential with in vitro evaluated biological activity, Journal of Molecular Liquids, 2020, vol 301, 112479, doi.org/10.1016/j.molliq.2020.112479
Damjanovic A, Kolundžija B, Matic I, Krivokuca A, Zdunic G, Šavikin K, Jankovic R, Antic Stankovic J,Stanojkovic T: Mahonia aquifolium Extracts Promote Doxorubicin Effects against Lung Adenocarcinoma Cells In Vitro, Molecules, 2020; vol 25 (22), 5233-5247; doi:10.3390/molecules25225233
Ines Nikolić I, Antić-Stanković J, Božić D, Randjelovic D, Bojan Marković, Jasmin Lunter D, Kremenović A, Savić M, Savić S: Curcumin nanonization using an alternative small-scale production unit: selection of proper stabilizer applying basic physicochemical consideration and biological activity assessment of nanocrystals, Reviews on Advanced Materials Science, 2020; 59: 406–424
Gledovic А, Janosevic Lezaic А, Krstonosic В, Djokovic Ј, Nikolic I, Bajuk-Bogdanovic D, Antic Stankovic J, Randjelovic D, Savic SM, Filipovic M, Tamburic, Savic SD: Low-energy nanoemulsions as carriers for red raspberry seed oil: Formulation approach based on Raman spectroscopy and textural analysis, physicochemical properties, stability and in vitro antioxidant/ biological activity, Plose One, 2020; vol 15, (4), doi.org/10.1371/journal.pone.0230993 (IF 2,740)
Dabetic NM, Todorovic VM, Djuricic ID, Antic Stankovic JA, Basic ZN, Vujovic DS, Sobajic SS. Grape Seed Oil Characterization: A Novel Approach for Oil Quality Assessment, 2020, European Journal of Lipid Science and Technology, 2020; vol. 122 (6), 1900447, DOI: 10.1002/ejlt.201900447
Antonijevic Nikolic M, Antic Stankovi J, Tanaskovic S: Synthesis, characterization and in vitro antiproliferative and antibacterial studies of tetraazamacrocyclic complexes of Co(II) and Cu(II) with pyromellitic acid, J Coord Chem, 2018, 71(10): 1542-1559
Mirjana Antonijević-Nikolić, Jelena Antić-Stanković, Branka Dražić, Sladjana Tanasković, New macrocyclic Cu(II) complex with bridge terephthalate: synthesis, spectral properties, in vitro cytotoxic and antimicrobial activity. Comparison with related complexes, J Mole Struct. 2018, ISSN 0022-2860, https://doi.org/10.1016/j.molstruc.2018.10.027
Perovic S, Veinovic G, Antic Stankovic J: A review on antibiotic resistance: origin and mechanisms of bacterial resistance as biological phenomenon, Genetika. 2018, 50(3): 1123-1135.