Zorica Stojić Vukanić, PhD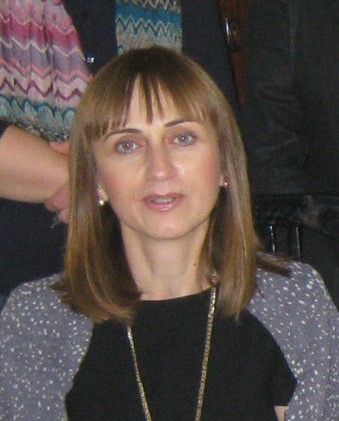 Position: Full professor
Organizational unit: Department of Microbiology and Immunology
Adress: Vojvode Stepe 450, 11221 Belgrade, Serbia
Prostorija: A 005
Phone: +381 11 3951-224
Fax: +381 11 3974-349
Email: zoricasv@pharmacy.bg.ac.rs
Zorica Stojić-Vukanić graduated, and received her master's and doctoral degrees from the University of Belgrade - Faculty of Pharmacy.
At the Integrated academic studies, Professor Zorica Stojić-Vukanić is involved in conducting theoretical classes within the subjects Immunology, Immunology with Immunochemistry and Fundamentals of Pharmaceutical Biotechnology. She also participates in the realization of theoretical classes in Specialist academic studies Biological medicines and in Doctoral academic studies.
Within the scientific research work, which was funded by the Ministry of Education, Science and Technological Development of the Republic of Serbia, Professor Zorica Stojić-Vukanić participated in research focused on examining the influence of aging and sex on immune mechanisms involved in the development of autoimmune nervous tissue injury, and especially on the role of innate immune cells in these processes. She is the author or co-author of 54 scientific papers.
Since 1990, she has been a member of the Immunological Society of Serbia.
Stojić-Vukanić Z, Hadžibegović S, Nicole O, Nacka-Aleksić M, Leštarević S, Leposavić G. CD8+ T Cell-Mediated Mechanisms Contribute to the Progression of Neurocognitive Impairment in Both Multiple Sclerosis and Alzheimer's Disease? Front Immunol. 2020; 11: 566225. doi: 10.3389/fimmu.2020.566225
Stojić-Vukanić Z, Pilipović I, Bufan B, Stojanović M, Leposavić G. Age and sex determine CD4+ T cell stimulatory and polarizing capacity of rat splenic dendritic cells. Biogerontology 2019 Oct; doi: 10.1007/s10522-019-09845-y
Stojić-Vukanić Z, Pilipović I, Djikić J, Vujnović I, Nacka-Aleksić M, Bufan B, Arsenović-Ranin N, Kosec D, Leposavić G. Strain specificities in age-related changes in mechanisms promoting and controlling rat spinal cord damage in experimental autoimmune encephalomyelitis. Exp Gerontol. 2018 Jan;101:37-53. doi: 10.1016/j.exger.2017.11.002.
Stojić-Vukanić Z, Kotur-Stevuljević J, Nacka-Aleksić M, Kosec D, Vujnović I, Pilipović I, Dimitrijević M, Leposavić G. Sex Bias in Pathogenesis of Autoimmune Neuroinflammation: Relevance for Dimethyl Fumarate Immunomodulatory/Anti-oxidant Action. Mol Neurobiol. 2017 May 22. doi: 10.1007/s12035-017-0595-2.
Stojić-Vukanić Z, Pilipović I, Vujnović I, Nacka-Aleksić M, Petrović R, Arsenović-Ranin N, Dimitrijević M, Leposavić G. GM-CSF-producing Th cells in rats sensitive and resistant to experimental autoimmune encephalomyelitis. PLoS One. 2016 Nov 10;11(11):e0166498. doi: 10.1371/journal.pone.0166498.
Stojić-Vukanić Z, Bufan B, Pilipović I, Vujnović I, Nacka-Aleksić M, Petrović R, Arsenović-Ranin N, Leposavić G. Estradiol enhances capacity of TLR-matured splenic dendritic cells to polarize CD4+ lymphocytes into IL-17/GM-CSF-producing cells in vitro. Int Immunopharmacol. 2016 Nov;40:244-253. doi: 10.1016/j.intimp.2016.09.001.
Stojić-Vukanić Z, Nacka-Aleksić M, Pilipović I, Vujnović I, Blagojević V, Kosec D, Dimitrijević M, Leposavić G. Aging diminishes the resistance of AO rats to EAE: Putative role of enhanced generation of GM-CSF expressing CD4+ T cells in aged rats. Immun Ageing 2015; 12:16. doi: 10.1186/s12979-015-0044-x.
Stojić-Vukanić Z, Bufan B, Arsenović-Ranin N, Kosec D, Pilipović I, Perišić-Nanut M, Leposavić G. Aging affects AO rat splenic conventional dendritic cell subset composition, cytokine synthesis and T-helper polarizing capacity. Biogerontol 2013; 14: 443-459.
Stojić-Vukanić Z, Rauski A, Kosec D, Radojević K, Pilipović I, Leposavić G. Dysregulation of T-cell development in adrenal glucocorticoid-deprived rats. Exp Biol Med (Maywood) 2009; 234:1067-1074. doi: 10.3181/0902-RM-63.
Stojić-Vukanić Z, Colić M, Dimitrijević M. Effect of pentoxifylline on differentiation and maturation of human monocyte-derived dendritic cells in vitro. Int Immunopharmacol 2007;7:167-174. doi: 10.1016/j.intimp.2006.09.005