Nevena Arsenović-Ranin, PhD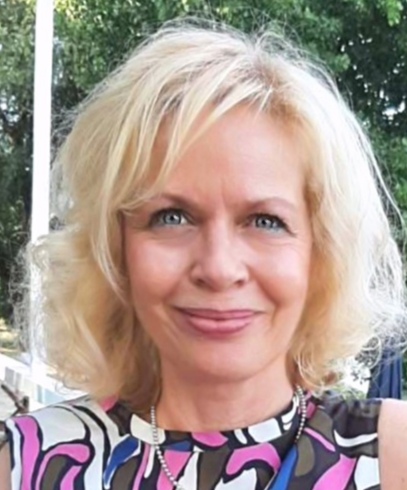 Position: Full professor
Organizational unit: Department of Microbiology and Immunology
Adress: Vojvode Stepe 450, 11221 Belgrade, Serbia
Room: A 005
Telephon: +381 11 3951-223
Fax: +381 11 3972-840
Email: nevenaar@pharmacy.bg.ac.rs

CV
Nevena Arsenović Ranin PhD holds an Full Professor position and presently Head of the Department for Microbiology and Immunology at the University of Belgrade –Faculty of Pharmacy. She works at the Belgrade University Faculty of Pharmacy where she graduated (1988), and received her master's (1992) and her doctoral degrees (2001). From 2012, she is Director of specialist academic studies (SAS) Biological Medicines.
At the Integrated academic studies, Professor Nevena Arsenović Ranin is involved in conducting theoretical classes within the subjects Immunology, and Immunology with Immunochemistry. She also participates in the realization of theoretical classes in Specialist academic studies Biological medicines and in Doctoral academic studies.
She was a mentor of two doctoral dissertations, twenty specialist theses and more than fifty graduate theses. She is the author of one textbook and one handbook in immunology/immunochemistry.
As part of scientific research activities in the field of immunology, which was funded by the Ministry of Education, Science and Technological Development of the Republic of Serbia, she participated in research focused on the synthesis and characterization of monoclonal antibodies, pathogenetic mechanisms and pharmacological modulation of pathogenesis and clinical severity of autoimmune diseases, neuroendocrine and immune system interactions, and immune responses to vaccines. To date, she has published 45 scientific papers in peer-reviewed, international journals.
Since 1990 she has been a member of the Immunological Society of Serbia (IsoS), and since 2011 she is a member of the Executive Board of ISoS.


Dimitrijević M, Arsenović-Ranin N, Kosec D, Bufan B, Nacka-Aleksić M, Pilipović I, Leposavić G. Sex differences in Tfh cell help to B cells contribute to sexual dimorphism in severity of rat collagen-induced arthritis. Sci Rep. 2020 Jan 27;10(1):1214. doi: 10.1038/s41598-020-58127-y.
Bufan B, Arsenović-Ranin N, Petrović R, Živković I, Stoiljković V, Leposavić G. Strain specificities in influence of ageing on germinal centre reaction to inactivated influenza virus antigens in mice: Sex-based differences. Exp Gerontol. 2020 May;133:110857. doi: 10.1016/j.exger.2020.110857.
Arsenović-Ranin N, Petrović R, Živković I, Bufan B, Stoiljković V, Leposavić G. Influence of aging on germinal centre reaction and antibody response to inactivated influenza virus antigens in mice: sex-based differences. Biogerontology 2019 Aug;20(4):475-96. doi: 10.1007/s10522-019-09811-8.
Dimitrijević M, Arsenović-Ranin N, Bufan B, Nacka-Aleksić M, Macanović ML, Milovanović P, Đurić M, Sopta J, Leposavić G. Collagen-induced arthritis in Dark Agouti rats as a model for study of immunological sexual dimorphisms in the human disease. Exp Mol Pathol. 2018 Aug;105(1):10-22. doi: 10.1016/j.yexmp.2018.05.007.
Arsenović-Ranin N, Kosec D, Pilipović I, Nacka-Aleksić M, Bufan B, Stojić-Vukanić Z, Leposavić G. Sex and age as determinants of rat T-cell phenotypic characteristics: influence of peripubertal gonadectomy. Mol Cell Biochem. 2017 Jul;431(1-2):169-85
Jančić I, Šefik-Bukilica M, Živojinović S, Damjanov N, Spasovski V, Kotur N, Klaassen K, Pavlović S, Bufan B, Arsenović-Ranin N. Influence of Promoter Polymorphisms of the TNF-α (-308G/A) and IL-6 (-174G/C) Genes on Therapeutic Response to Etanercept in Rheumatoid Arthritis. J Med Biochem. 2015 Oct;34(4):414-421. doi: 10.2478/jomb-2014-0060.
Nacka-Aleksić M, Djikić J, Pilipović I, Stojić-Vukanić Z, Kosec D, Bufan B, Arsenović-Ranin N, Dimitrijević M, Leposavić G. Male rats develop more severe experimental autoimmune encephalomyelitis than female rats: Sexual dimorphism and diergism at the spinal cord level. Brain Behav Immun. 2015 Oct;49: 101-18. doi: 10.1016/j.bbi.2015.04.017.
Arsenović-Ranin N, Kosec D, Nacka-Aleksić M, Pilipović I, Stojić-Vukanić Z, Djikić J, Bufan B, Leposavić G. Ovarian hormone level alterations during rat post-reproductive life-span influence CD8 + T-cell homeostasis. Exp Biol Med (Maywood). 2015 Oct;240(10):1319-32. doi: 10.1177/1535370215570817
Arsenović-Ranin N, Kosec D, Pilipović I, Bufan B, Stojić-Vukanić Z, Radojević K, Nacka-Aleksić M, Leposavić G. Androgens contribute to age-associated changes in peripheral T-cell homeostasis acting in a thymus-independent way. Neuroimmunomodulation. 2014;21(4):161-82. doi: 10.1159/000355349.
Arsenović-Ranin N, Vučević D, Okada N, Dimitrijević M, Čolić M. A monoclonal antibody to the rat Crry/p65 antigen, a complement regulatory membrane protein, stimulates adhesion and proliferation of thymocytes. Immunology 2000; 100: 334-344