Katarina Vučićević, PhD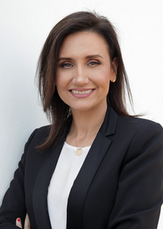 Position: full professor
Organizational unit: Department of Pharmacokinetics and Clinical Pharmacy
Address: Vojvode Stepe 450, 11221 Belgrade, Serbia
Room: Tower of B block
Phone: +381 11 3951-373
Fax: +381 11 3972-840
Email: katarina.vucicevic@pharmacy.bg.ac.rs

Katarina Vučićević is an experienced, ambitious and efficient academic with extensive experience in academic clinical research projects and pharmacometric modeling and simulation dedicated to optimize dosing regimens by bringing complex PK-PD models to simple use in everyday clinical practice
As Full Professor she is involved in graduate, doctoral and specialization studies at University in Belgrade – Faculty of Pharmacy, and doctoral studies at School of Medicine in the area of pharmacokinetics and clinical pharmacy. She is mentor of doctoral research in pharmacometrics. She co-authored university book Pharmacokinetics.
Katarina holds PhD from University of Belgrade – Faculty of Pharmacy, where she obtained PharmD diploma, and became specialist in clinical pharmacy.
She was awarded a great number of scholarships for her PhD and postdoctoral research at different universities around the world, and attended multiple courses and trainings in data analysis. She has been awarded Fulbright scholarship by U.S. government for project "Methodological Issues in Modeling Disease, Pharmacokinetic and Pharmacodynamic Data". at University California San Francisco (UCSF), Department of Bioengineering and Therapeutic Sciences, CA, USA. Her one-year postdoctoral training (2016-2017) was in pharmacometrics, and Katarina became an expert in methodological aspects for PK, PD and outcome data analysis. She has been extensively involved in building PopPK-PD models of tenofovir for HIV prophylaxis (PrEP), piperaquine for malaria prophylaxis, TDM drugs (antiepileptics, immunosuppressives, antibiotics, etc.).
Katarina is MC member of COST action 16205 (2017-2022): "Understanding Gastrointestinal Absorption-related Processes (UNGAP)". She is a researcher on national scientific project (2011-2022). She was principal investigator of bilateral scientific project with Slovenia (2014-2015): "Evaluation of pharmacokinetic variability for personalized pharmacotherapy of epilepsy".
Katarina is president of Scientific Committee of 8th Congress of Pharmacists of Serbia, and member of IATDM.
Katarina is External expert for the evaluation of the bioequivalence studies and External member of the Committee for Marketing Authorization of Human Medicinal Products at Medicines and Medical Devices Agency of Serbia, Member of the Central Expert Committee for Medicines at Republic Fund of Health Insurance Serbia.
Research interest: clinical pharmacokinetics, population PKPD models, pharmacometrics, NONMEM, TDM, dosing optimization, model informed drug dosing, BE studies.
Topić Vučenović V, Rajkovača Z, Jelić D, Stanimirović D, Mikov M, Miljković B, Vučićević K. Population exposure-response model of 131I in patients with benign thyroid disease. Eur J Pharm Sci. 2021 Oct 1;165:105942. doi: 10.1016/j.ejps.2021.105942.
Jayachandran P, Garcia-Cremades M,

Vučićević K, et al. A Mechanistic In Vivo/Ex Vivo Pharmacokinetic-Pharmacodynamic Model of Tenofovir for HIV Prevention. CPT: Pharmacometrics & Systems Pharmacology. 2021 Mar;10(3):179-187. DOI: 10.1002/psp4.12583
Stillhart C,

Vučićević K, Augustijns P, Basit AW, Batchelor H, Flanagan TR, Gesquiere I, Greupink R, Keszthelyi D, Koskinen M, Madla CM, Matthys C, Miljuš G, Mooij MG, Parrott N, Ungell AL, de Wildt SN, Orlu M, Klein S, Müllertz A. Impact of gastrointestinal physiology on drug absorption in special populations--An UNGAP review. Eur J Pharm Sci. 2020 Apr 30;147:105280. doi: 10.1016/j.ejps.2020.105280.
Jovanović M,

Vučićević K, Miljković B. Understanding variability in the pharmacokinetics of atypical antipsychotics - focus on clozapine, olanzapine and aripiprazole population models. Drug Metab Rev. 2020 Feb;52(1):1-18. doi: 10.1080/03602532.2020.1717517
Kovacevic T, Miljkovic B, Kovacevic P, Dragic S, Momcicevic D, Avram S, Jovanovic M,

Vucicevic K. Population pharmacokinetic model of Vancomycin based on therapeutic drug monitoring data in critically ill septic patients. J Crit Care. 2020 Feb;55:116-121. doi: 10.1016/j.jcrc.2019.10.012
Pejčić Z,

Vučićević K, García-Arieta A, Miljković B. Adjusted indirect comparisons to assess bioequivalence between generic clopidogrel products in Serbia. Br J Clin Pharmacol. 2019 Sep;85(9):2059-2065. doi: 10.1111/bcp.13997.
Topić Vučenović V, Rajkovača Z, Jelić D, Stanimirović D, Vuleta G, Miljković B, Vučićević K. Investigation of factors influencing radioiodine (131I) biokinetics in patients with benign thyroid disease using nonlinear mixed effects approach. Eur J Clin Pharmacol. 2018 Aug;74(8):1037-1045. doi: 10.1007/s00228-018-2459-8
Wallender E,

Vucicevic K, Jagannathan P, Huang L, Natureeba P, Kakuru A, Muhindo M, Nakalembe M, Havlir D, Kamya M, Aweeka F, Dorsey G, Rosenthal PJ, Savic RM. Predicting Optimal Dihydroartemisinin-Piperaquine Regimens to Prevent Malaria During Pregnancy for Human Immunodeficiency Virus-Infected Women Receiving Efavirenz. J Infect Dis. 2018 Mar 5;217(6):964-972. doi: 10.1093/infdis/jix660.
Golubovic B, Prostran M, Miljkovic B,

Vucicevic K, Radivojevic D, Grabnar I. Population Pharmacokinetic Approach of Immunosuppressive Therapy in Kidney Transplant Patients. Curr Med Chem. 2016;23(19):1998-2011. doi: 10.2174/0929867323666151221150214.
Vučićević K, Jovanović M, Golubović B, Kovačević SV, Miljković B, Martinović Ž, Prostran M. Nonlinear mixed effects modelling approach in investigating phenobarbital pharmacokinetic interactions in epileptic patients. Eur J Clin Pharmacol. 2015 Feb;71(2):183-90. doi: 10.1007/s00228-014-1778-7.
Save
Save