Ana Ninić, PhD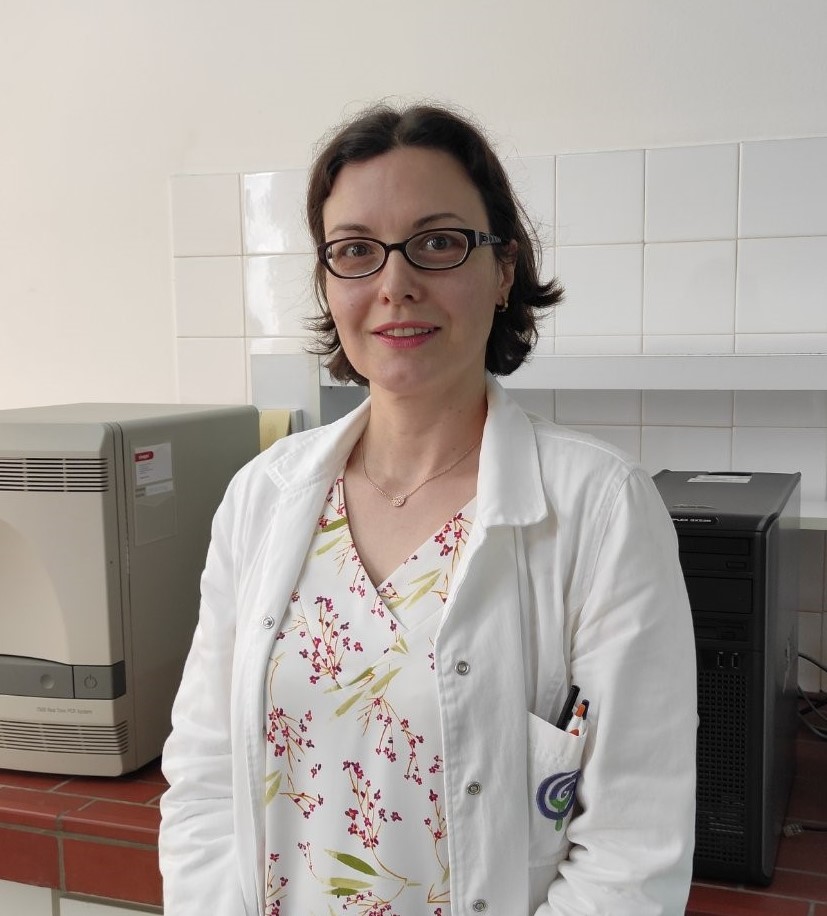 Position: Associate Professor
Organizational unit: Department of Medical Biochemistry
Room: A205
Phone: +381 11 3951266

Email: aninic@pharmacy.bg.ac.rs


Ana Ninić graduated in 2005. at the Faculty of Pharmacy, University of Belgrade, study program Pharmacy. She defended her doctoral thesis entitled "Gene expression of antioxidant enzymes in rat tissues and human blood: the influence of external factors and correlations with biochemical markers of oxidative stress" in 2014. at the Faculty of Pharmacy, University of Belgrade. She completed Specialty academic studies (Biochemical Diagnostics module) in 2016. She completed Specialization for health workers and health associates in Medical Biochemistry in 2017. She completed subspecialization in Clinical Enzymology in 2021.
Participates in theoretical classes in integrated academic studies, namely General Biochemistry, Integration of Metabolic Processes, Medical Biochemistry in the study program Pharmacy and Application of Informatical Methods in Medical Biochemistry, General Biochemistry, Clinical Enzymology, Clinical Chemistry with Molecular Diagnostics 2, Sport biochemistry Modern Methods in Medical Biochemistry in the study program Pharmacy-medical biochemistry. In doctoral academic studies, she participates in theoretical classes in General Biochemistry, Medical Biochemistry, Selected Chapters in Medical Biochemistry, Clinical Enzymology and Methods in Molecular Biology. At the Specialization for Health Workers and Health Associates in Medical Biochemistry, she participates in theoretical classes on the subject of Medical Biochemistry.
She is a mentor of 1 submitted and approved doctoral dissertation, a mentor for the preparation of 1 doctoral dissertation, 1 final thesis on Speciality Academic Studies, 18 final theses on Integrated Academic Studies and 10 Student Scientific Research Papers.
From 2008. until today, she has participated in 9 domestic and international projects.
She is a reviewer in international and national journals.
She is the co-author of 2 textbooks, "Laboratory diagnostics of metabolic disorders", 2017 and " Handbook for mentors of professional practice - study program of Pharmacy - Medical Biochemistry, 2018/2019".
She is a member of the Board for Scholarships of the Biochemical Society of Serbia, the Society of Medical Biochemists of Serbia, the Serbian Biochemical Society, the Serbian Society for Mitochondrial and Free Radical Physiology.
Ana Ninić has published 50 scientific papers in journals from the SCI list, 1 scientific paper in the foreign publisher journal that is not on the SCI list, 7 scientific national journals and 35 abstracts at international and national conferences. According to the Scopus index database, her papers were cited 536 times, or 371 times without autocitations of all coauthors. The h-index is 13.
Ninić A, Bojanin D, Sopić M, Mihajlović M, Munjas J, Milenković T, Stefanović A, Vekić J, Spasojević-Kalimanovska V. Transforming Growth Factor-β1 and Receptor for Advanced Glycation end Products Gene Expression and Protein Levels in Adolescents with Type 1 Diabetes Mellitus. J Clin Res Pediatr Endocrinol. 2021;13(1):61-71.
Munjas J, Sopić M, Stefanović A, Košir R, Ninić A, Joksić I, Antonić T, Spasojević-Kalimanovska V, Prosenc Zmrzljak U. Non-Coding RNAs in Preeclampsia—Molecular Mechanisms and Diagnostic Potential. International Journal of Molecular Sciences. 2021;22(19):10652.
Klisic A, Kavaric N, Ninic A, Kotur-Stevuljevic J. Oxidative stress and cardiometabolic biomarkers in patients with non-alcoholic fatty liver disease. Sci Rep-UK 2021;11(1):1-8.
Klisic A, Kavaric N, Vujcic S, Spasojevic-Kalimanovska V, Kotur-Stevuljevic J, Ninic A. Factorial Analysis of the Cardiometabolic Risk Influence on Redox Status Components in Adult Population. Oxid Med cell Longev. Volume 2021 |Article ID 6661940 | https://doi.org/10.1155/2021/6661940
Zanini D, Todorovic N, Korovljev D, Stajer V, Ostojic J, Purac J, Kojic D, Vukasinovic E, Djordjievski S, Sopic M, Guzonjic A, Ninic A, Erceg S, Ostojic S. The effects of 6-month hydrogen-rich water intake on molecular and phenotypic biomarkers of aging in older adults aged 70 years and over: A randomized controlled pilot trial. Experimental Gerontology. 2021;155:111574. https://doi.org/10.1016/j.exger.2021.111574
Klisic A, Kocic G, Kavaric N, Jovanovic M, Stanisic V, Ninic A. Body mass index is independently associated with xanthine oxidase activity in overweight/obese population. Eat Weight Disord. 2020;25(1):9-15.
Mihajlovic M, Ninic A, Sopic M, Miljkovic M, Stefanovic A, Vekic J, Spasojevic-Kalimanovska V, Zeljkovic D, Trifunovic B, Stjepanovic Z, Zeljkovic A. Association among resistin, adenylate cyclase-associated protein 1 and high-density lipoprotein cholesterol in patients with colorectal cancer: a multi-marker approach, as a hallmark of innovative predictive, preventive, and personalized medicine. EPMA Journal. 2019; 10(3):307–316.
Klisic A, Abenavoli L, Fagoonee S, Kavaric N, Kocic G, Ninić A. Older age and HDL-cholesterol as independent predictors of liver fibrosis assessed by BARD score. Minerva Med. 2019 Feb;110(3):191-198.
Ninić A, Sopić M, Munjas J, Spasojević-Kalimanovska V, Kotur-Stevuljević J, Bogavac-Stanojević N, Ivanišević J, Simić-Ogrizović S, Kravljača M, Jelić-Ivanović Z. Association Between Superoxide Dismutase Isoenzyme Gene Expression and Total Antioxidant Status in End-Stage Renal Disease Patients on Hemodialysis. Balkan Med J 2018; 35(6):431-436.
Ninic A, Spasojevic-Kalimanovska V, Sopic M, Munjas J, Bogavac-Stanojevic N, Jelic-Ivanovic Z, Kotur-Stevuljevic J, Spasic S, Crevar – Sakac M, Milenkovic M, Vujic Z. Paraoxonases gene expression and distribution in rats organs treated with atherogenic diet and atorvastatin therapy. Indian J Biotechnol 2018;17:217-223.