Milica Drobac, PhD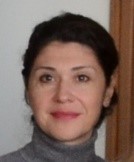 Position: Associate Professor
Organizational unit: Department of Pharmacognosy
Address: Vojvode Stepe 450, 11221 Belgrade, Serbia
Room: B104
Phone: +381 113951387
Email: milica.drobac@pharmacy.bg.ac.rs
Milica Drobac (maiden name Pavlović) graduated in 1997 at Faculty of Pharmacy, University of Belgrade, with an average grade of 9.28. She defended master thesis in 2002, and PhD dissertation in 2008, at the Faculty of Pharmacy, University of Belgrade.
Since 1998, she has been employed at the Department of Pharmacognosy, first as teaching associate, then since 2000 as junior teaching assistant, from 2003 as teaching assistant, from 2011 as assistant professor and from 2017 as associate professor.
She participates in mandatory courses Pharmacognosy and Phytotherapy, and in elective courses Analysis of herbal drugs and preparations, and Medical devices in integrated academic studies, in courses Selected chapters of pharmacognosy, Plant isolates: preparation, characterization and potentials of use, and Valorization of ethnomedicinal use of plants in doctoral academic studies, as well as in the elective course Medical Devices in specialist academic studies in Release of Medicinal Products on the Market.
Since 1998, she has participated in 5 projects of the Ministry of Education, Science and Technological Development of the Republic of Serbia. She completed two study visits to the Department of Pharmacognosy and Chemistry of Natural Products, School of Pharmacy, University of Athens(during 2001 and during 2003-2004).
She has published 55 papers in international journals (SCI indexed), 9 papers in national journals, and more than 95 short communications presented on international and national meetings. The total number of citations (without autocitation) is 592 (Scopus ciattion database), and Hirsch index is 15. She is the co-author of one technical solution (M82).
Her scientific research includes investigation of the chemical composition and pharmacological/biological activity of essential oils and plant extracts, isolation and identification of plant secondary metabolites and evaluation of their pharmacological activity as well as their chemotaxonomic significance.
Drobac M, Kukić‐Marković J, Milenković M, Niketić M, Petrović S. The chemical composition, antimicrobial and antiradical properties of the essential oil of Achillea grandifolia aerial parts from Serbia. Bot Serb. 2021; 45(2): 233-240. DOI: 10.2298/BOTSERB2102233D.
Ilić M, Samardžić S, Kotur-Stevuljević J, Ušjak D, Milenković M, Kovačević N, Drobac M. Polyphenol rich extracts of Geranium L. species as potential natural antioxidant and antimicrobial agents. Eur Rev Med Pharmacol Sci. 2021; 25(20): 6283-6294. DOI: 10.26355/eurrev_202110_26998
Drobac M, Arsenijević J, Kovačević N. The content of coumarin in the commercial samples of cinnamon bark and cinnamon-containing dietary supplements available on the Serbian market. Acta alimentaria. 2020; 49(3): 263-269. DOI: 10.1556/066.2020.49.3.4
Arsenijević J, Drobac M, Šoštarić I, Jevđović R, Živković J, Ražić S, Moravčević Đ, Maksimović Z. Comparison of essential oils and hydromethanol extracts of cultivated and wild growing Thymus pannonicus All. Ind Crop Prod. 2019; 130: 162-169. DOI: 10.1016/j.indcrop.2018.12.055
Ušjak Lj, Drobac M, Niketić M, Petrović S. Chemosystematic significance of essential oil constituents and furanocoumarins of underground parts and fruits of nine Heracleum L. taxa from Southeastern Europe. Chem Biodivers. 2018 Dec;15(12): e1800412. DOI: 10.1002/cbdv.201800412
Petrović S., Drobac M., Ušjak Lj., Filipović V., Milenković M., Niketić M. Volatiles of roots of wild-growing and cultivated Armoracia macrocarpa and their antimicrobial activity, in comparison to horseradish, A. rusticana. Ind Crop Prod. 2017; 109: 398-403. DOI: 10.1016/j.indcrop.2017.08.056
Petrović S., Ušjak Lj., Milenković M., Arsenijević J., Drobac M., Drndarević A., Niketić M. Thymus dacicus as a new source of antioxidant and antimicrobial metabolites. J Funct Foods. 2017; 28: 114-121. DOI: 10.1016/j.jff.2016.11.007
Arsenijević J, Drobac M, Šoštarić I, Ražić S, Milenković M, Couladis M, Maksimović Z. Bioactivity of herbal tea of Hungarian thyme based on the composition of volatiles and polyphenolics. Ind Crop Prod 2016; 89: 14-20. DOI: 10.1016/j.indcrop.2016.04.046