Sandra Cvijić, PhD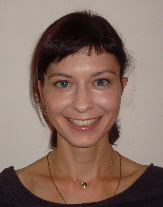 Position: Associate Professor
Organizational unit: Department of Pharmaceutical Technology and Cosmetology
Address: Vojvode Stepe 450, 11221 Belgrade, Serbia
Room: B301
Phone: +381 11 3951-356
Fax: +381 11 3972-840
Email: gsandra@pharmacy.bg.ac.rs


Sandra Cvijić (maiden name: Grbić) graduated from the Faculty of Pharmacy, University in Belgrade in 2003. She received a PhD in Medical Sciences – Pharmacy from the same University in 2011 (thesis entitled "Development of biorelevant dissolution media for poorly water-soluble drug substances"). In 2013, she was a visiting scientist at the Department of Biopharmaceutics and Pharmaceutical Technology, Institute of Pharmacy and Biochemistry, Johannes Gutenberg University, Mainz, Germany (three-months research stay founded by DAAD organization). In 2015, she finished postgraduate specialization studies in Pharmaceutical Technology (final paper entitled "In silico biopharmaceutical characterization tools in formulation development of oral dosage forms").
Sandra Cvijić is an Assistant Professor in the Department of Pharmaceutical Technology and Cosmetology. She is involved in the development and delivery of undergraduate courses in Pharmaceutical Technology 2, Pharmaceutical Technology 3, Industrial Pharmacy, Veterinary Medicines (integrated academic studies) and postgraduate courses (specialization and doctoral studies in Pharmaceutical Technology).
She currently participates in the national project "Advanced Technologies for Controlled Release from Solid Drug Delivery Systems" funded by the Ministry of Education, Science and Technological Development, Republic of Serbia (2011-2016), and international SimInhale COST Action MP1404 (2016-2019). In the past, she participated in the national project "Biopharmaceutical Characterization of the Selected BCS Class II and III Drugs: In Vitro and In Silico Methods Evaluation"funded by the Ministry of Science and Technological Development, Republic of Serbia (2008-2010), international project Tempus PQPharm "Postgraduate Qualification in Pharmacy - The Way Forward" (2010-2013), Slovenia -Serbia bilateral project "Optimization of Fluid Bed Hot Melt Granulation" (2012-2013), international project "Linking Industry and Academia in Teaching Pharmaceutical Development and Manufacture (LIAT-Ph)" (2013-2015), and Germany -Serbia bilateral project "Application of Machine Learning Tools in Establishing a Design Space in Solid Dosage Forms Development" (2013-2014).
She is the author or co-author of a number of publications (one book chapter in the book of international scientific interest, 9 research papers in international scientific journals, 3 papers in national scientific journal, 48 poster presentations (34 on international meetings), 8 oral presentations (2 on international meetings)), 1 online course, and 5 textbooks for undergraduate students (manuals for practical lessons). She is a reviewer for international and national scientific journals: Molecular Pharmaceutics; European Journal of Pharmaceutics and Biopharmaceutics; AAPS PharmSciTech; Drug Design, Development and Therapy; Asian Journal of Pharmaceutics; Hemijska industrija (Chemical Industry); Arhiv za farmaciju.
Research interest: Biopharmaceutical characterization of drug substances/drug products; In silico absorption simulation of drugs administered via different dosing routes (oral, intraoral, inhalation); Bioperformance dissolution testing; In vitro – in vivo correlation; Formulation and characterization of solid dosage forms for pediatric population
Languages: English (fluent); French (basic)
Beloica S, Cvijić S, Bogataj M, Parojčić J. In vitro-in vivo-in silico approach in biopharmaceutical characterization of ibuprofen IR and SR tablets. Eur J Pharm Sci. 2015;75:151-9.

Beloica S, Cvijić S, Homšek I, Bogataj M, Parojčić J. An in vitro - in silico - in vivo approach in biopharmaceutical drug characterization: metformin hydrochloride IR tablets. Pharmazie. 2015;70(7):458-65.

Cvijić S, Parojčić J, Langguth P. Viscosity-mediated negative food effect on oral absorption of poorly-permeable drugs with an absorption window in the proximal intestine: In vitro experimental simulation and computational verification. Eur J Pharm Sci. 2014;61:40-53.

Cvijić S, Langguth P. Improvement of trospium-specific absorption models for fasted and fed states in humans. Biopharm Drug Dispos. 2014;35(9):553-8.

Grbic S, Parojcic J, Djuric Z. Computer Aided Biopharmaceutical Characterization: Gastrointestinal Absorption Simulation. In: Djuris J, Ed. Computer-aided Applications in Pharmaceutical Technology. Cambridge: Woodhead Publishing Ltd.; 2013.

Kocic I, Homsek I, Dacevic M, Grbic S, Parojcic J, Vucicevic K, Prostran M, Miljkovic B. A case study on the in silico absorption simulations of levothyroxine sodium immediate-release tablets. Biopharm Drug Dispos. 2012;33(3):146-59.

Parojcic J, Stojkovic A, Tajber L, Grbic S, Paluch K, Djuric Z, Corrigan OI. Biopharmaceutical Characterization of Ciprofloxacin HCl–Ferrous Sulfate Interaction. J Pharm Sci. 2011;100(12):5174-84.

Grbic S, Parojcic J, Ibric S, Djuric Z. In vitro - in vivo correlation for gliclazide immediate release tablets based on mechanistic absorption simulation. AAPS PharmSciTech. 2011;12(1):165-71.

Grbic S, Parojcic J, Malenovic A, Djuric Z, Maksimovic M. A Contribution to the Glimepiride Dissociation Constant Determination. J Chem Eng Data. 2010;55(3):1368-71.

Grbic S, Parojcic J, Djuric Z, Ibric S. Mathematical modeling of pH-surfactant-mediated solubilization of nimesulide, Drug Dev Ind Pharm. 2009;35(7):852-6.