Aleksandra Buha Đorđević, PhD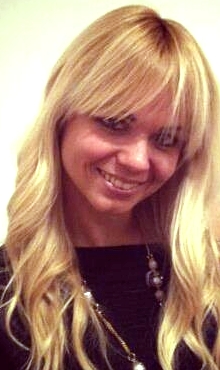 Position: assistant professor
Organizational unit: Department of Toxicology "Akademik Danilo Soldatović"
Address: Vojvode Stepe 450, 11221 Belgrade, Serbia
Room: A106
Phone: +381 113951 248
Fax:
Email:aleksandra@pharmacy.bg.ac.rs
Aleksandra Buha, born in 1984, graduated at the Faculty of Pharmacy, University of Belgrade in 2009 with the average grade 9.68/10. During her undergraduate studies she had the Scholarship of the Ministry of Education of Republic of Serbia, Scholarship of the City of Belgrade for talented students and Scholarship of the Foundation for Support of Young Scientists and Artists. In 2014 she completed postgraduate academic specialization Toxicological Risk Assessment for Environmental Pollutant. She defended her PhD entitled "Toxic effects of prolonged exposure to cadmium and/or polychlorinated biphenyls in rats" in 2016. Her research interests include toxicology of mixtures, endocrine disruption, chemical carcinogenesis, risk assessment, etc.
She is working as an assistant professor at the Department of Toxicology and actively participates in the preparations and implementations of undergraduate and postgraduate courses of the Department.
Since 2011 she has been involved in the national project "Chemical contaminants of food" funded by Ministry of Science and Technological Development, Belgrade, Republic of Serbia. She is a collaborator on international project of Ministry of Science, Republic of Montenegro; Project Health Risk Assessment in Municipality Pljevlja based on human biomonitoring data. In the period of 2016-2018 she was a co-principal investigator on a project Establishing polysilicate pro-inflammatory effectiveness and toxicity in vivo in collaboration with MRC Human Nutrition Research, Elsie Widdowson Laboratory, Cambridge, UK and Faculty of Veterinary Medicine, University of Cambridge, UK (co-principal investigator from UK Prof Dr Jonathan J. Powell). She has active research collaboration with many international scientific institutions.
Throughout previous years she has obtained scholarships from NATO Science for Peace and Security Advanced Study Institute, Karolinska Institutet (Stockholm, Sweden), European Society of Toxicology, European Training Programme in Safety Sciences in Medicines, International Union of Toxicology, European Pancreatic Club, Society for Endocrinology, etc. During this period she also finished more than 15 courses in different fields of toxicology as well as in different academic and research skills. In 2015 she was a visiting scholar at MRC Human Nutrition Research, Elsie Widdowson Laboratory, Cambridge, UK.
Up-to-date, Aleksandra Buha has published 30 papers in international (SCI indexed) journals, 4 papers in national journals, 3 book chapters, and more than 80 short communications presented on international and national meetings. Her cummulative impact factor is 77.4, number of citation is 442 (SCOPUS citation database) and Hirsch index is 11.
ORCID: https://orcid.org/0000-0002-6942-7040
She is fluent in English (Cambridge Certificate in Advanced English).
Buha A, Jugdaohsingh R, Matovic V, Bulat Z, Antonijevic B, Kerns JG, Goodship A, Hart A, Powell JJ. Bone mineral health is sensitively related to environmental cadmium exposure- experimental and human data, Environ Res 176 2019 108539
Djordjevic V, Wallace DR, Schweitzer A, Boricic N, Knezevic Dj, Matic S, Grubor N, Kerkez M, Radenkovic D, Bulat Z, Antonijevic B, Matovic V, Buha A. Environmental cadmium exposure and pancreatic cancer: Evidence from case control, animal and in vitro studies. Environ Int, 128 (2019) 353-361
Hernandez AF, Buha A, Constantin C, Wallace DR, Sarigiannis D, Neagu M, Antonijevic B, Hayes AW, Wilks MF, Tsatsakis A. Critical assessment and integration of separate lines of evidence for risk assessment of chemical mixtures. Arch Toxicol. In Press DOI: 10.1007/s00204-019-02547-x
Karaulov AV, Renieri EA, Smolyagin AI, Mikhaylova IV, Stadnikov AA, Begun DN, Tsarouhas K, Buha Djordjevic A, Hartung T, Tsatsakis A. Long-term effects of chromium on morphological and immunological parameters of Wistar rats. Food Chem Toxicol 133 (2019) 110748
Renieri EA, Goumenou M, Kardonsky DA., Veselov VV, Alegakis AΚ., Buha A., Tzatzarakis MN, Nosyrev AE, Rakitskii VN, Kentouri M, Tsatsakis AM. Indicator PCBs in farmed and wild fish in Greece - Risk assessment for the Greek population, Food Chem Toxicol 2019,doi: https://doi.org/10.1016/j.fct.2019.03.027.
Buha A, Wallace D, Matovic V, Schweitzer A, Oluic B, Micic D, Djordjevic V. Cadmium Exposure as a Putative Risk Factor for the Development of Pancreatic Cancer: Three Different Lines of Evidence. Biomed Res Int 2017(2):1-8., DOI:10.1155/2017/1981837
Buha A, Antonijević B, Milovanović V, Janković S, Bulat Z, Matović V. Polychlorinated biphenyls as oxidative stress inducers in liver of subacutely exposed rats: Implication for dose-dependence toxicity and benchmark dose concept. Environ Res 2015, 309-317.
Buha A, Antonijević B, Bulat Z, Jaćević V, Milovanović V, Matović V. The impact of prolonged cadmium exposure and co-exposure with polychlorinated biphenyls on thyroid function in rats. Toxicol Lett 2013, 221: 83-90.
Buha A, Matovic V, Antonijevic B, Bulat Z, Curcic M, Renieri EA, Tsatsakis AM, Schweitzer A and Wallace D. Overview of Cadmium Thyroid Disrupting Effects and Mechanisms. Int JMolSci. 2018, 19(5), 1501; https://doi.org/10.3390/ijms19051501