Biljana Bufan, PhD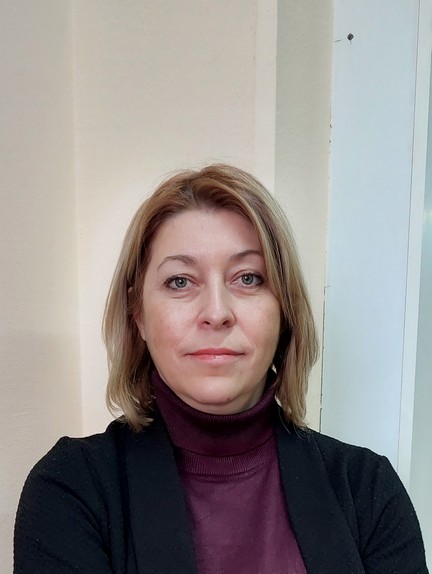 Position: Full professor
Organizational unit: Department of Microbiology and Immunology
Adress: Vojvode Stepe 450, 11221 Belgrade, Serbia
Room: A 005
Telephon: +381 11 3951-207
Fax: +381 11 3972-840
Email: bbiljana@pharmacy.bg.ac.rs
Biljana Bufan was born in 1976 in Pančevo. She graduated from the Faculty of Medicine - University of Belgrade in 2002, in 2007 she defended her master's thesis: "Modulation of differentiation of human dendritic cells of monocyte origin in vitro using aspirin and nitrogen monoxide derivatives of aspirin", and in 2011 passed the specialist exam in Immunology. At the Faculty of Pharmacy - University of Belgrade, she defended her PhD thesis: "Influence of aging on phenotypic and functional characteristics of dendritic cells of different strains of rats" in 2014, and in 2018 she completed specialist academic studies - Biological Medicines.
Since 2004, she has been employed at the Department of Microbiology and Immunology of the Faculty of Pharmacy, as an Associate professor since 2020. She participates in the teaching on integrated academic (subjects: Immunology, Immunology with Immunochemistry and Laboratory Diagnosis of Immune System Disorders) and specialist academic studies – Biological Medicines.
In her scientific-research career so far, she has studied the effects of immunomodulatory substances, aging and sex on the function of immune system cells and the development of autoimmune diseases. She was engaged (2015-2019) in the project OI MPTRN RS "Plasticity of the immune system during aging: immunomodulatory potential of estrogen", and since 2022 in the project of the Science Fund RS "Neuroimmune aspects of mood, anxiety and cognitive effects of leads/drug candidates acting at GABAA and/or sigma-2 receptors: In vitro/in vivo delineation by nano-and hiPSC-based platform" (NanoCellEmoCog). She is involved in international COST projects (European Cooperation in Science and Technology): "Converting molecular profiles of myeloid cells into biomarkers for inflammation and cancer" and "A sound proteome for a sound body: targeting proteolysis for proteome remodeling".
She is the author/co-author of 35 papers in SCI-listed journals and five papers in national journals, cited 268 times (without autocitations) according to the SCOPUS.
She is engaged in the Laboratory for Microbiological Testing of the Faculty of Pharmacy as Head of Testing.
She was engaged (March - June 2020) in the Directorate for National Reference Laboratories of the MAFWM RS in the COVID laboratory for SARS-CoV-2 PCR detection.
She is the co-author of two textbooks.
Member of the Society of Immunologists of Serbia.
Speaks English.

Dimitrijević M, Arsenović-Ranin N, Bufan B, Nacka-Aleksić M, Kosec D, Pilipović I, Kotur-Stevuljević J, Simić Lj, Sopta J, Leposavić G. Sex-based differences in monocytic lineage cells contribute to more severe collagen-induced arthritis in female rats compared with male rats. Inflammation 2020;43(6):2312-2331. doi: 10.1007/s10753-020-01302-0
Bufan B, Arsenović-Ranin N, Petrović R, Živković I, Stoiljković V, Leposavić G. Strain specificities in influence of ageing on germinal centre reaction to inactivated influenza virus antigens in mice: sex-based differences. Exp Gerontol 2020;133:110857. doi: 10.1016/j.exger.2020.110857
Stojić-Vukanić Z, Pilipović I, Bufan B, Stojanović M, Leposavić G. Age and sex determine CD4+ T cell stimulatory and polarizing capacity of rat splenic dendritic cells. Biogerontology 2020;21(1):83-107. doi: 10.1007/s10522-019-09845-y
Dimitrijević M, Arsenović-Ranin N, Kosec D, Bufan B, Nacka-Aleksić M, Pilipović I, Leposavić G. Sexual dimorphism in Th17/Treg axis in lymph nodes draining inflamed joints in rats with collagen-induced arthritis. Brain Behav Immun 2019;76:198-214. doi: 10.1016/j.bbi.2018.11.311
Stojkovska J, Djurdjevic Z, Jancic I, Bufan B, Milenkovic M, Jankovic R, Miskovic-Stankovic V, Obradovic B. Comparative in vivo evaluation of novel formulations based on alginate and silver nanoparticles for wound treatments. J Biomater Appl 2018;32(9):1197-1211. doi: 10.1177/0885328218759564
Petrović R*, Bufan B*, Arsenović-Ranin N, Živković I, Minić R, Radojević K, Leposavić G. Mouse strain and sex as determinants of immune response to trivalent influenza vaccine. Life Sci 2018;207:117-126. doi: 10.1016/j.lfs.2018.05.056
Lukic J, Jancic I, Mirkovic N, Bufan B, Djokic J, Milenkovic M, Begovic J, Strahinic I, Lozo J. Lactococcus lactis and Lactobacillus salivarius differently modulate early immunological response of Wistar rats co-administered with Listeria monocytogenes. Benef Microbes 2017;8(5):809-822. doi: 10.3920/BM2017.0007
Stojić-Vukanić Z, Bufan B, Pilipović I, Vujnović I, Nacka-Aleksić M, Petrović R, Arsenović-Ranin N, Leposavić G. Estradiol enhances capacity of TLR-matured splenic dendritic cells to polarize CD4+ lymphocytes into IL-17/GM-CSF-producing cells in vitro. Int Immunopharmacol 2016;40:244-253. doi: 10.1016/j.intimp.2016.09.001
Stojić-Vukanić Z, Bufan B, Arsenović-Ranin N, Kosec D, Pilipović I, Perisoć-Nanut M, Leposavić G. Aging affects AO rat splenic conventional dendritic cell subset composition, cytokine synthesis and T-helper polarizing capacity. Biogerontol 2013;14(4):443-459. doi: 10.1007/s10522-013-9444-5
Bufan B, Mojsilović S, Vučićević D, Vučević D, Vasilijić S, Balint B, Čolić M. Comparative effects of aspirin and NO-releasing aspirins on differentiation, maturation and function of human monocyte-derived dendritic cells in vitro. Int Immunopharmacol 2009;9:910-917. doi: 10.1016/j.intimp.2009.03.016