Brankica Filipić, PhD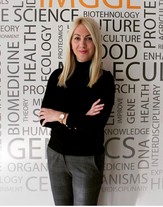 Position: Assiociate Professor
Organizational unit: Department of Microbiology and Immunology
Address: Vojvode Stepe 450, 11221 Belgrade, Serbia
Room: A005
Phone: +381 11 3951-207
Fax: +381 11 3974-349
Email: brankicaf@pharmacy.bg.ac.rs

Brankica Filipić graduated in 2007 from the Faculty of Pharmacy, University of Belgrade and in 2013 she defended her PhD thesis: "Functional characterization of the CmbT transporter responsible for multidrug resistance on structurally different substrates of the strain Lactococcus lactis subsp. cremoris MG1363", mentored by Professor Jelena Antić Stanković, Faculty of Pharmacy, University of Belgrade and Full Research Professor Nataša Golić, Institute of Molecular Genetics and Genetic Engineering (IMGGE), University of Belgrade.
Since February 2008, she has been employed as a Teaching Associate at the Department of Microbiology and Immunology and was promoted to Assistant Professor (2016-2021), and Associate Professor (2021 -to date) for the scientific field Microbiology with Immunology and Immunochemistry.
Brankica Filipic is involved in teaching Microbiology, Selected Topics of Microbiology and Laboratory Microbiology (integrated academic studies) and Biological Medicines, Sanitary Chemistry and Critical review of the literature (postgraduate academic studies).
For the purpose of professional development Brankica Filipic was visiting researcher at the University of Exeter, Exeter, UK and University of Oxford, Oxford, UK.
Malesevic M, Stanisavljevic N, Miljkovic M, Jovcic B, Filipic B, Studholme DJ, Kojic M. The large plasmidome of Lactococcus lactis subsp. lactis bv. diacetylactis S50 confers its biotechnological properties. Int J Food Microbiol 2021 Jan 16;337:108935.
Jovčić B, Novović K, Filipić B, Velhner M, Todorović D, Matović K, Rašić Z, Nikolić S, Kiškarolj F, Kojić M. Genomic Characteristics of Colistin-Resistant Salmonellaenterica subsp. enterica Serovar Infantis from Poultry Farms in the Republic of Serbia. Antibiotics (Basel) 2020 Dec 10;9(12):886.
Malešević M, Di Lorenzo F, Filipić B, Stanisavljevic N, Novovic K, Senerovic L, Polovic N, Molinaro A, Kojic M, Jovcic B. Pseudomonas aeruginosa quorum sensing inhibition by clinical isolate Delftia tsuruhatensis 11304: involvement of N-octadecanoylhomoserine lactones. Sci Rep 9, 16465 (2019)
Miljkovic M, Jovanovic S, O'Connor PM, Mirkovic N, Jovcic B, Filipic B, Dinic M, Studholme DJ, Fira D, Cotter PD, Kojic M. Brevibacillus laterosporus strains BGSP7, BGSP9 and BGSP11 isolated from silage produce broad spectrum multi-antimicrobials. PLoS One. 2019 May 10;14(5):e0216773
Malešević M, Vasiljević Z, Sovtić A, Filipić B, Novović K, Kojić M, Jovčić B. Virulence traits associated with Burkholderia cenocepacia ST856 epidemic strain isolated from cystic fibrosis patients. Antimicrob Resist Infect Control. 2017 Jun 6;6:57.
Filipic B, Malesevic M, Vasiljevic Z, Lukic J, Novovic K, Kojic M, Jovcic B. Uncovering Differences in Virulence Markers Associated with Achromobacter Species of CF and Non-CF Origin. Front Cell Infect Microbiol. 2017 May 29;7:224.
Filipic B, Novovic K, Studholme DJ, Malesevic M, Mirkovic N, Kojic M, Jovcic B. Shotgun metagenomics reveals differences in antibiotic resistance genes among bacterial communities in Western Balkans glacial lakes sediments. J Water Health 2020 Jun;18(3):383-397
Novovic KD., Malesevic MJ., Filipic BV, Mirkovic LN, Miljkovic SM, Kojic OM, Jovčić UB. PsrA Regulator Connects Cell Physiology and Class 1 Integron Integrase Gene Expression Through the Regulation of lexA Gene Expression in Pseudomonas spp. Curr Microbiol 2019 76:320–328
Novovic K, Mihajlovic S, Vasiljevic Z, Filipic B, Begovic J, Jovcic B. Carbapenem-resistant Acinetobacter baumannii from Serbia: revision of CarO classification. Plos One. 2015 Mar;10(3):e0122793. doi: 10.1371/journal.pone.0122793
Filipic B, Nikolic K, Filipic S, Jovcic B, Agbaba D, Antic Stankovic J, Kojic M, Golic N. Identifying the CmbT substrates specificity by using a quantitative structure-activity relationship (QSAR) study. J Taiwan Inst Chem Eng. 2014 May;45(3):764-71.