Marijana Ćurčić, PhD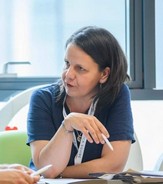 Position: associate professor
Organizational unit: Department of Toxicology "Akademik Danilo Soldatović"
Address: Vojvode Stepe 450, 11221 Belgrade, Serbia
Room: A106
Phone: +381 113951 248
Fax: +381 11 3972-840
Email: marijana.curcic@pharmacy.bg.ac.rs
Marijana Ćurčić holds a bachelor's, master of science and doctoral degrees from the University of Belgrade - Faculty of Pharmacy. She also finished the postgraduate academic specialization Toxicological Risk Assessment and the health specialization Toxicological Chemistry at the Faculty of Pharmacy. Associate Professor Marijana Ćurčić teaches at the integrated academic studies: Toxicology with Analytics, Clinical Analyses in Toxicology, Acute Drug Poisoning with Analytics, Human Health Risk Assessment, Ecotoxicology, Drugs of Abuse with Analytics, Free Radicals and Antioxidants - Laboratory Diagnostics, Toxicology in Practice . Prof. Ćurčić is engaged in postgraduate courses in doctoral academic studies, specialistic academic studies (Toxicological risk assessment) and health specialization as a request of the Ministry of Health of the Republic of Serbia.
Prof. Ćurčić holds her postgraduate education through courses organized by EUROTOX and IUTOX, scholarship of the Japanese Organization for International Collaboration (JICA), as well as the Karolinska Institutet, Sweden. The focus of Mariana Ćurčić's research is mixture toxicology, toxicological risk assessment, safe chemicals management and analytical toxicology. Marijana Ćurčić's expert activities are related to the evaluation of genotoxic impurities for the purposes of placing the drug on the market, evaluation of the documentation for plant protection products, inventory of selected POPs chemicals for updating the national implementation plan for the Stockholm Convention. Prof. Ćurčić is a lecturer for chemical advisors with the approval of the Ministry of Environmental Protection. She is the President of the Commission for Chemicals and Biological Material of the Faculty of Pharmacy as well as a member of the faculty promotion team. Prof. Marijana Ćurčić has published 35 papers in international journals (category M20) and she is a reviewer in international and national scientific journals.
Baralić K, Živančević K, Jorgovanović D, Javorac D, Radovanović J, Gojković T, Djordjevic AB, Ćurčić M, Mandinić Z, Bulat Z, Antonijević B. Probiotic reduced the impact of phthalates and bisphenol A mixture on type 2 diabetes mellitus development: merging bioinformatics with in vivo analysis. Food and Chemical Toxicology. 2021 Jun 5:112325.
Radovanović J, Antonijević B, Kolarević S, Milutinović-Smiljanić S, Mandić J, Vuković-Gačić B, Bulat Z, Ćurčić M, Kračun-Kolarević M, Sunjog K, Kostić-Vuković J. Genotoxicity of fluoride subacute exposure in rats and selenium intervention. Chemosphere. 2021 Mar 1;266:128978.
Ćurčić M. Smart specialisation strategy and possibilities for its implementation in the healthcare system of the Republic of Serbia. Zdravstvena zaštita. 2020;49(2):94-9.
Buha A, Đukić-Ćosić D, Ćurčić M, Bulat Z, Antonijević B, Moulis JM, Goumenou M, Wallace D. Emerging links between cadmium exposure and insulin resistance: Human, animal, and cell study data. Toxics. 2020 Sep;8(3):63.
Milic J, Curcic M, Brnjas Z, Carapina H, Randjelovic J, Krinulovic K, Jovovic A. The socio-economic impact timeline in Serbia for persistent organic pollutants (POPs). Science of the total environment. 2019 Oct 20;688:486-93.
Milovanovic V, Buha A, Matovic V, Curcic M, Vucinic S, Nakano T, Antonijevic B. Oxidative stress and renal toxicity after subacute exposure to decabrominated diphenyl ether in Wistar rats. Environmental Science and Pollution Research. 2018 Mar;25(8):7223-30.
Curcic M, Buha A, Stankovic S, Milovanovic V, Bulat Z, Đukić-Ćosić D, Antonijević E, Vučinić S, Matović V, Antonijevic B. Interactions between cadmium and decabrominated diphenyl ether on blood cells count in rats—Multiple factorial regression analysis. Toxicology. 2017 Feb 1;376:120-5.
Ćurčić M, Tanasković S, Stanković S, Janković S, Antunović M, Đorđević S, Kilibarda V, Vučinić S, Antonijević B. Relationship of hepatotoxicity and the target tissue dose of decabrominated diphenyl ether in subacutely exposed Wistar rats. Vojnosanitetski pregled. 2015;72(5):405-13.
Curcic M, Durgo K, Kopjar N, Ancic M, Vucinic S, Antonijevic B. Cadmium and decabrominated diphenyl ether mixture: in vitro evaluation of cytotoxic, prooxidative and genotoxic effects. Environmental toxicology and pharmacology. 2014 Sep 1;38(2):663-71.
Ćurčić M, Janković S, Jaćević V, Stanković S, Vučinić S, Durgo K, Bulat Z, Antonijević B. Combined effects of cadmium and decabrominated diphenyl ether on thyroid hormones in rats. Arhiv za higijenu rada i toksikologiju-Archives of Industrial Hygiene and Toxicology. 2012;63(3):255-62.