Jasmina Brborić, PhD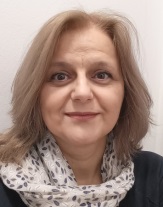 Position: Associate Professor
Organizational unit: Department of Pharmaceutical Chemistry
Room: 206 (Building B)
Phone: +381 11 3951 343
Email: jbrboric@pharmacy.bg.ac.rs

Jasmina Brborić graduated at the Faculty of Pharmacy in Belgrade in 1987. She defended her master's thesis in the field of Pharmaceutical-Medical Chemistry and Structural Analysis/ Radiopharmacy in 1995 under the mentorship of prof. dr. Sote Vladimirov at the Faculty of Pharmacy, University of Belgrade. She defended her doctoral dissertation at the same field in 2005, under the mentorship of prof. dr. Sote Vladimirov and dr. sci. Mirjana Jovanović, senior research associate at the Vinča Institute of Nuclear Sciences. The thesis was rewarded as the best doctoral dissertation at the University of Belgrade in 2005 by the Chamber of Commerce of Belgrade.She defended her specialist work on Health specialization in Drug testing and control in 2008 under the mentorship of prof. dr. Sote Vladimirov.
She has been working at the Department of Pharmaceutical Chemistry since 1987 (teaching associate 1987-1988; assistant-trainee 1989-1995; assistant 1996-2005; assistant professor 2006-2013; and associate professor 2014 - so far). Participates in the teaching of IAS for the subjects: Pharmaceutical Chemistry II and Selected Chapters of Pharmaceutical Chemistry, as well as postgraduate doctoral studies and specialist studies Drug testing and control and specialist academic studies Release of Medicinal Products on the Market.
Since 1996, she has actively participated in 6 research projects of the Ministry of Science and Technology of the Republic of Serbia, and since 2021 she has been an associate on the Ideas project.
Jasmina Brborić is a co-author of 28 papers in international scientific journals (M20 category), 7 papers in national journals (M50 category) and 54 presentations at international and national conferences.
She is the co-author of the university textbook Manual for practical classes in Pharmaceutical Chemistry 1 (three editions 2015, 2018, 2021) and the textbook Introduction to Drug Chemistry, Faculty of Pharmacy in Tuzla, 2021.
She was a mentor of one defended doctoral dissertation, 5 specialist theses and 9 final theses.
The main areas of scientific research are: design, synthesis, physicochemical and biological characterization of 99mTc-radiopharmaceuticals for hepatobiliary scintigraphy, anti-inflammatory drugs and antineoplastics; application of modern instrumental methods and separation techniques for testing pharmaceutical purity, monitoring stability and determining the content of active substances from dosage forms and pharmaceutical raw materials.
Scopus: 284 citations (without self-citations), h-index: 8
ORCID ID 0000-0002-5202-8334
Brboric J, Klisic A, Kotur-Stevuljevic J, Delogu G, Gjorgieva Ackova D, Kostic K, Dettori M.A, Fabbri D, Carta P, Saso L. Natural and natural-like polyphenol compounds: in vitro antioxidant activity and potential for therapeutic application. Archives of Medical Science

https://doi.org/10.5114/aoms/135379
Rupar Jelena, Aleksić Mara, Dobričić Vladimir, Brborić Jasmina, Čudina Olivera: An electrochemical study of 9-chloroacridine redox behavior and its interaction with double-stranded DNA, Bioelectrochemistry 135(2020)107579 https://doi.org/10.1016/j.bioelechem.2020.107579
Dobričić V, Savić J, Nikolic K, Vladimirov S, Vujić Z, Brborić J: Application of biopartitioning micellar chromatography and QSRR modeling for prediction of gastrointestinal absorption and design of novel β-hydroxy-β-arylalkanoic acids. European Journal of Pharmaceutical Sciences, 100 (2017) 280-284. DOI: 10.1016/j.ejps.2017.01.023
Savić J, Dobričić V, Nikolic K, Vladimirov S, Dilber S, Brborić J: In vitro prediction of gastrointestinal absorption of novel β-hydroxy-β-arylalkanoic acids using PAMPA technique. European Journal of Pharmaceutical Sciences 100 (2017) 36-41. DOI: 10.1016/j.ejps.2017.01.005

Savić J, Dilber S, Milenković M, Kotur-Stevuljević J, Marković B, Vladimirov S, Brborić J: Docking studies, synthesis and biological evaluation of β-aryl-β-hydroxypropanoic acids for anti-inflammatory activity. Medicinal Chemistry, 13 (2) (2017) 186-195.

DOI: 10.2174/1573406412666160907150247

Jasmina Brboric; Mirjana S Jovanovic; Sanja Vranješ-Đurić; Olivera Cudina; Bojan Markovic; Sote Vladimirov: The effect of lipophilicity on the hepatobiliary properties of iminodiacetic acid derivatives in the conditions of hyperbilirubinemia. Appl. Radiat. Isotopes 74 (2013) 31-35.

DOI: 10.1016/j.apradiso.2012.12.014
J. Brborić, S. Vladimirov, M.S. Jovanović and N. Dogović: Synthesis of novel iodinated iminodiacetic acid analogues as hepatobiliary imaging agents. Monats. Chem. 135 (8) (2004) 1009-1014. DOI: 10.1007/s00706-004-0174-x
M.S. Jovanovic, J. Brboric, S. Vladimirov and Lj. Suturkova: The correlation between lipophilicity of the ligands and the hepatobiliary properties of the radiopharmaceuticals – approach to the development of new IDA derivatives. J.Radioanal. Nucl. Ch 245 (3) (2000) 555-560. DOI: 10.1023/a:1006709310527
M.S. Jovanovic, J. Brboric, S. Vladimirov, B. Zmbova, Lj. Vuksanovic, D. Živanov-Stakic and V. Obradovic: New 99mTc-diiodine substituted IDA derivative (DIIODIDA) for hepatobiliary imaging. J.Radioanal. Nucl. Ch.240(1) (1999) 321-324. DOI: 10.1007/bf02349171
S. Vladimirov, J. Brborić, M. Švonja, D. Živanov-Stakić: Spectrophotometric determination of nizatidine in pharmaceutical formulations. J. Pharm. Biomed. Anal. 13 (1995) 933-936. DOI: 10.1016/0731-7085(95)01329-j