Milica Lukić, PhD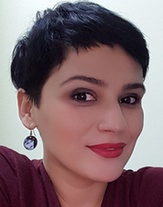 Position: Associate professor
Organizational unit: Depatment of Pharmaceutical Technology and Cosmetology
Room: 308
Telefon: +381 11 3951 369
Fax: +381 11 3972-840
E-mail: mlukic@pharmacy.bg.ac.rs
Dr Milica Lukić, associate professor, graduated in year 2004th and got her PhD in 2014th at University of Belgrade – Pharmaceutical Faculty. After graduation and one-year internship at Military-medical Academy she has passed internship exam and worked for 3 years in community pharmacy. She has been employed at Department of Pharmaceutical Technology and Cosmetology at University of Belgrade – Pharmaceutical Faculty form 2007th as: teaching collaborator (2007-2009), teaching assistant (2009-2016), associate professor (2016-2021) and assistant professor (2021-now).
Her research interest is based on research and development of dermocosmetic emulsion carriers (physico-chemical and in-vivo characterisation) and characterization of contemporary biocompatible and biodegradable materials with specific emphasize on correlations between instrumental measurements and human assessment together with investigations of possible usage of existing techniques in new areas. Special aspects of her work represent (i) sensory evaluation of cosmetic products (ii) efficacy and safety evaluation of dermocosmetic and pharmaceutical preparation and (iii) development of methods and protocols which are used in these evaluations.
At at University of Belgrade – Pharmaceutical Faculty dr Milica Lukić is engaged in realization of educational programs at: Integrated Academic Studies – Study program Pharmacy; Specialist Academic Studies in Cosmetology; Doctoral Academic Studies in Pharmaceutical Sciences, as well as in work of Centre for Cosmetology and Dermopharmacy.
From 2008th until today, she has been engaged in three national and two international – bilateral projects.
A part of her research work she has conducted at Institute of Pharmaceutical Technology Eberhard Karls University of Tubingen, which have took place in years 2011, 2017. and 2018.
As a result of her previous work, assistant professor Milica Lukić was until now author and co-author of 4 chapters in monograph of international importance, 39 papers in international journals, 8 papers in national journals, 67 announcements at international and national meetings and 8 technical solutions.
She is a member of the Association of Pharmaceutical Associations of Serbia (SFUS).
Lukic M, Filipovic M, Pajic N, Lunter D, Bozic D, Savic S. Formulation of topical acidic products and acidification of the skin – Contribution of glycolic acid. International Journal of Cosmetic Science (2021) 43 (4): 419-431; DOI: 10.1111/ics.12707.

Lukić M, Pantelić I, Savić S. Towards optimal pH of the skin and topical formulations: From the current state of the art to tailored products. Cosmetics (2021):8 (3), art. no. 69; DOI: 10.3390/cosmetics8030069.

Lukic M, Pantelic I, Savic S. A comparison of Myribase and Doublebase gel: Does qualitative similarity of emollient products imply their direct interchangeability in everyday practice? Dermatologic Therapy (2020): e14020; https://doi.org/10.1111/dth.14020.
Pantelić I, Lukić M, Gojgić-Cvijović G, Jakovljević D, Nikolić I, Lunter DJ, Daniels R, Savić S. Bacillus licheniformis levan as a functional biopolymer in topical drug dosage forms: From basic colloidal considerations to actual pharmaceutical application. European Journal of Pharmaceutical Sciences (2020) 142: 105109; doi: 10.1016/j.ejps.2019.105109.
Tasić-Kostov M, Lukić M, Savić S. A 10% Lactobionic acid‐containing moisturizer reduces skin surface pH without irritation—An in vivo/in vitro study. Journal of Cosmetic Dermatology 18 (2019) 1705-1710.
Zhang Z, Lukic M, Savic S, Lunter DJ. Reinforcement of barrier function – skin repair formulations to deliver physiological lipids into skin. International Journal of Cosmetic Science (2018) 40: 494–501; DOI: 10.1111/ics.12491.
Filipovic М, Lukic М, Djordjevic S, Krstonosic V, Pantelic I, Vuleta G, Savic S. Towards satisfying performance of an O/W cosmetic emulsion: screening of reformulation factors on textural and rheological properties using general experimental design. International Journal of Cosmetic Science (2017) 39(5): 486-499; DOI: 10.1111/ics.12402.
Lukic M, Pantelic I, Savic S. An Overview of Novel Surfactants for Formulation of Cosmetics with Certain Emphasis on Acidic Active Substances. Tenside Surfactants Detergents 53 (2016) 7-19; doi: 10.3139/113.110405.
Lukic M, Pantelic I, Daniels R, Müller-Goyman C. C, Savic M, Savic S. Moisturizing emulsion systems based on the novel long-chain alkyl polyglucoside emulsifier: the contribution of thermoanalytical methods to the formulation development. Journal of Thermal Analysis and Calorimetry 111 (3) (2013): 2045-2057 doi: 10.1007/s10973-012-2263-0.
Lukic M, Jaksic I, Krstonosic V, Dokic LJ, Savic S. Effect of small change in oil phase composition on rheological and textural properties of w/o emulsion. Journal of Texture Studies 44 (2013) 34–44; doi:10.1111/j.1745-4603.2012.00363.x.